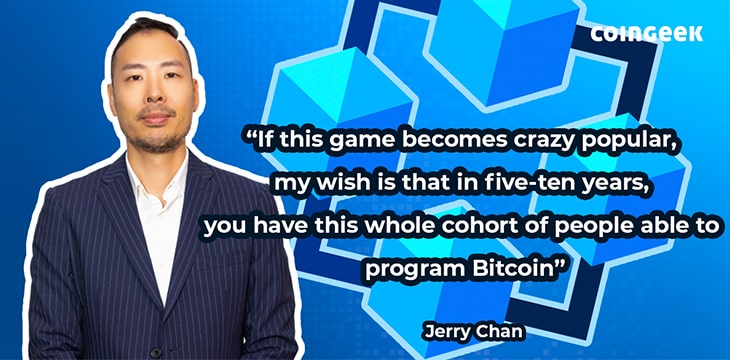 Battle of the Frobots: Jerry Chan unveils new BSV-powered combat robot platform
"Do we really need another financial intermediary, another token exchange or a DeFi platform? What if we built something interesting on Bitcoin? Jerry Chan, founder of Frobots asked.
This search for something new, innovative and interesting, which at the same time exploits the capabilities of Bitcoin, led Jerry to found Frobots. During an appearance on the Brittany Bitz podcast, the former Wall Street executive explained what his new battle bot platform is all about, how it incorporates NFTs and why he thinks it will lead to the rise. of an army of Bitcoin developers.
Battle of FROBOTS! Jerry Chan announces his NEW Battle Bot platform on Bitcoin!

Deposit your HandCash $Handle

Retweet, Like, Subscribe!@digitsu https://t.co/qJnfhOtpyu

—BrittanyBitz Podcast ▶ (@BrittanyBitz) July 8, 2022
Frobots is an "esport for coding". Users can write algorithms for battle robots that fight to the death for fun and profit, all on the BSV blockchain. Jerry was inspired by Robot Wars, the hit robot fighting competition that aired on UK TV (and later in the US as BattleBots). However, with Frobots, the fight takes place virtually and the owners of the robots earn income from the exploits of their robots.
Frobots is as unique an idea as it comes in the Bitcoin space. As Jerry told host Brittany Faslun, it all stems from his exploration of Bitcoin's "generic computational capabilities. What I mean is that Bitcoin can be a world computer. This is only possible on BSV, with the opcodes restored, which made it Turing-complete, observed Jerry.
With Bitcoin's computational capabilities in mind, combining it with gambling was a no-brainer. This industry has already proven that there is a market for paying users when they like content. In particular, Jerry liked the Roblox model because it has an internal economy where users build the games for other users. With 1.1 billion monthly active users, Roblox is the biggest proof that user-generated gaming content is gold.
As with many blockchain gaming platforms, Frobots incorporates NFTs. However, Jerry wants to distance himself from the NFT game as it has a connotation that NFTs are pure collectibles with no other use.
With Frobots, the value of robots comes from their battle history, ownership history, income, etc.
Do we really need another DeFi platform?
Prior to venturing into Bitcoin, Jerry was a Wall Street executive, serving as Vice President of Goldman Sachs FICC Technology and JPMorgan Forex Trading Tech. During his time in space, he noticed that almost every other developer is ready to create the same old products, with a bias towards those who make a quick buck. This monotony is ironic, especially considering how much more Bitcoin can do.
"Don't you find it ironic that Bitcoin decided to remove the trusted middleman, and then an entire sector of the crypto industry spent the last eight years creating middlemen? The fact that you're building a decentralized one doesn't change the fact that you're just building more middlemen," he noted.
For Frobots, value goes beyond simply beating your friends in a robot war and even earning money. Jerry believes the platform will unleash an army of Bitcoin developers when their skills are most needed.
"I structured Frobots for you to effectively write a Bitcoin contract. If this game becomes popular, my wish is that in five to ten years you will have this whole cohort of people who can program Bitcoin.
Additionally, Jerry targets non-developers with tools that allow them to program without necessarily having to learn coding languages, much like MIT's Scratch does for kids.
Frobots have the ability to last for decades. Indeed, it is about playing against dynamic players who can modify their code and therefore their strategy on the battlefield. This is one of the main reasons why games such as Chess and Go have lasted for centuries, with the latter having been around for over 2,500 years.
Jerry has been working on Frobots since September and plans to deploy a beta this year and launch the platform early next year. He built the token economy on top of the STAS protocol "for the ability to put a lot of the logic on the Bitcoin layer. This allows us to do low-level logic like royalty payments.
Watch: BSV Global Blockchain Convention Presentation, Play2Earn with BSV Blockchain
New to Bitcoin? Discover CoinGeek bitcoin for beginners section, the ultimate resource guide to learn about bitcoin – as originally envisioned by Satoshi Nakamoto – and blockchain.