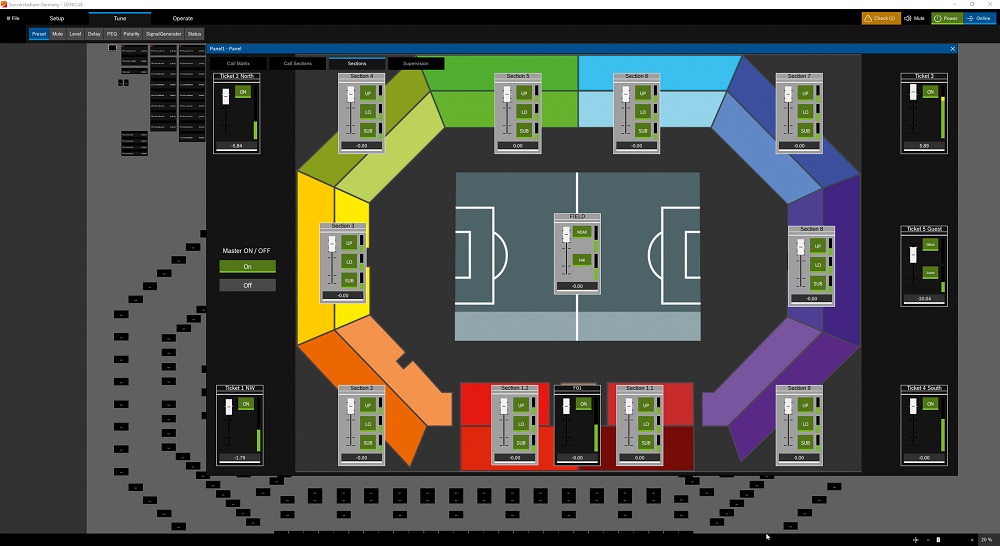 Dynacord Releases WPN1 Wall Panel Controller and SONICUE Updates
Based in Germany Dynacord announced its latest hardware and software additions with the introduction of the networked WPN1 wall panel controller and SONICUE Sound System software version 1.2.4. Both new offerings are now available to make audio system setup and control even easier, the company adds. Thus, the solutions are ideal for system designers, system integrators and professional users.
WPN1 Wall Panel Controller
According to a statement, the Dynacord WPN1 is a compact wall panel controller with a 4.5 cm (1.77 inch) color TFT display and a single button encoder. This allows staff to make quick and convenient sound adjustments such as volume control, source selection and mute, as well as other system functions. The PoE (Power over Ethernet) powered device is easy to install and available for standard EU and US wall boxes. It comes with interchangeable white and black faceplates to blend seamlessly into most room designs.
The WPN1 network connects and connects to Dynacord's MXE5 Matrix Mixing Engine, a 24-by-24 performance audio matrix offering comprehensive monitoring, routing and mixing functionality. Serving as the control server for all system-wide commands, the MXE5's system logic allows the WPN1 to control one or more audio zones. It can also control peripheral equipment such as lights, projectors or blinds. Support for Unicode characters allows the system designer to label commands on the display in local languages.
WPN1 offers an economical option, especially in small installations or in large projects that require a high number of control panels. System control by multi-PIN protection and screen saver options can be easily configured through the panel designer. The company therefore considers it an integral part of the SONICUE Sound System software.
SONICUE Software Updates
The current SONICUE software version 1.2.4. already supports the new WPN1 wall panel controller. It further enhances the system logic of the MXE5 Matrix Mixing Engine. It does this by adding an active HTTP application programming interface (API) to actively control third-party devices. The new version also includes a scheduling function for recurring events, transforming the MXE5 from an audio processor into a system control center.
Read also : Aurora Launches RXT Series Desktop Control Panels
Additionally, control panel support for TGX and IPX series power amplifiers monitors and controls these devices without the need for an MXE5, on PC and iOS devices or via a TPC- 1. Settings such as level, mute, preset and recall, as well as status indicators and VU metering, allow users to create custom control panels for audio system operation, monitoring and supervision .
According to Dynacord, it has further improved SONICUE's unique and patented flyout concept. The "Copy and Paste EQ" drop-down menu now allows users to easily copy and paste all consistent settings into other EQ drop-down menus without having to manually enter all values. This works for both multiple selections and mixed devices. For example, pasting the EQ setting from a Dynacord L or C series power amplifier into an IPX or MXE, or vice versa.
SONICUE software is available as a free download from the Dynacord website. Meanwhile, the WPN1 wall panel controller will go on sale in fall 2022, Dynacord says.
Discover Dynacord products on our partner site AV-iQ.com, here.