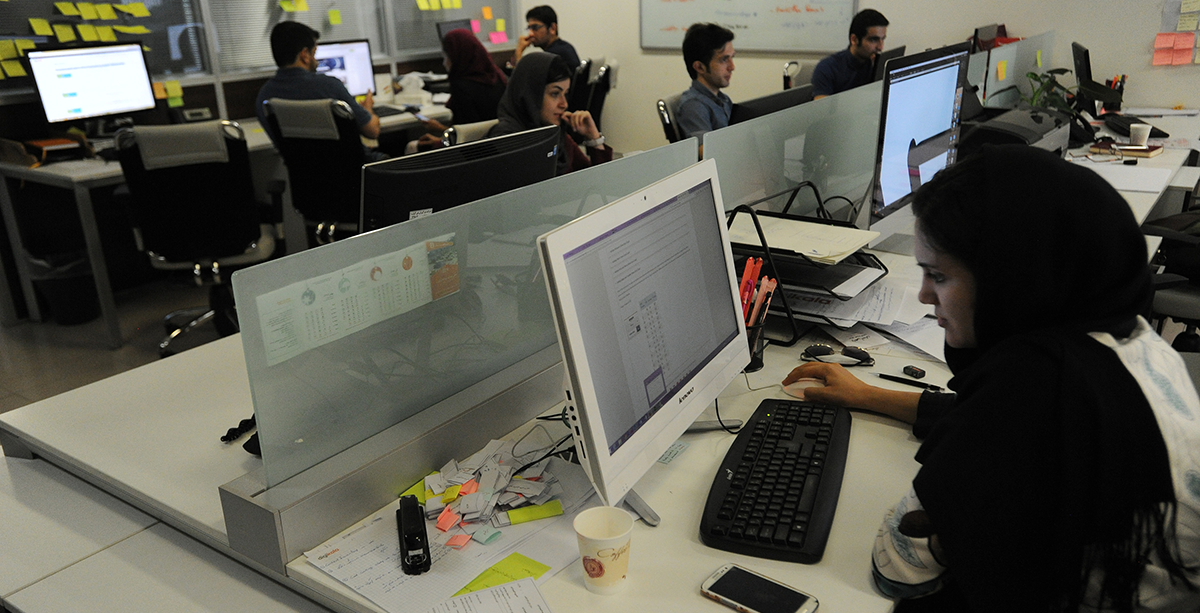 Escalating emigration and 'drought' in Iran's IT industry
For many years, educated Iranian elites have been leaving the country in increasing numbers. From doctors to scientists and researchers to engineers, they emigrate, mainly to Western countries, for various reasons, but the main ones are the poor economic conditions and the lack of political and social freedoms at home.
While estimates of the actual number of Iranians who have left the country differ, researchers agree that the overall size of this wave of emigration has increased like never before. According to the 2021 »Prospects of Iranian Migrationproduced by the research institute Iran Migration Observatory, the number of Iranian migrants has more than doubled over the past three decades, rising from a total of around 800,000 in 1990 to 1.8 million in 2020.
While the growing number of mostly skilled and young people going abroad is clearly affecting the country in multiple ways, Iran's IT sector is one of the hardest hit due to the growing exodus. of its experts in recent years. Thanks to the relatively rapid expansion of the telecommunications infrastructure and the improvement of Internet access, the country has almost 107 million Internet subscribers with a penetration rate of over 127% – the share of the digital economy in Iran's GDP has grown from just 2.6% to 6.87% over the past decade.
According to official government data published by the Iran Statistical Center, the value of the national digital economy in the last Iranian calendar year of 1400 (March 23, 2020 to March 22, 2021) was approximately $45 billion. Authorities aim to raise the share of the digital economy to 10% of GDP over the next three years, but given the growing brain drain of Iranian IT experts, many have warned of growing challenges for reach this goal.
"Drought" of IT professionals
According to the Iran Migration Outlook report mentioned above, 50% of those involved in Iran's startup community, as well as 44% of university students and graduates, are considering emigrating. The report adds that 55% of those active in the startup community think they will definitely not return after leaving the country. Although there is no clear data on how many IT experts have left Iran, the growing trend of emigration has rattled officials and companies, including tech startups.
Adel Talebi, secretary of the Internet Business Association, was quoted by local Iranian media last month saying the country is facing a shortage of highly skilled people due to emigration. This has affected not only the field of cybersecurity, but all areas of information technology, including development, software engineering, and programming. Last February, Hamid Behnegar, senior official of the Iranian Chamber of Commerce, Industries, Mining and Agriculture, also warned of what he described as a "skilled labor shortage" in the IT industry.
A similar sentiment is expressed by members of the Iranian startup community. For example, "Ehsan", a Tehran-based entrepreneur who ran a business of about 40 employees until last year, told the author that although he managed to survive the poor economic conditions of the country, his company went bankrupt after several key members of his team decided to leave Iran for better working conditions abroad. "The shortage of human resources in the IT sector is a crisis. The global demand for IT professionals has increased and Iranian companies are unable to compete with them in recruitment," Ehsan noted.
But the deterioration of conditions does not stop there. Some professionals, while remaining in their country of origin, have turned to virtual migration and now work remotely for foreign companies and enjoy much higher salaries without having to bear the hardships of emigration.
Why are they leaving?
A wide range of reasons motivate some highly educated Iranians to leave Iran, including the country's poor economic conditions, lack of political stability, and lack of social freedoms. However, for those active in Iran's IT industry, the government's restrictive measures on the Internet The use and censorship of popular social media platforms, as well as the unpredictability of regulations in this regard, can be seen as important factors behind the tsunami of IT experts leaving Iran.
"Mohammad", 32, exemplifies the trend described above. A computer programmer, he first moved to Istanbul before his second migration to the Netherlands, which has become a popular stopover for many Iranian IT professionals. For him, "political instability, deteriorating economic conditions and social blockages" were the main factors that triggered his decision to leave Iran. Morteza, 38, is another Iranian IT professional who left Iran last year and shares Mohammad's views. As he noted in an interview with this author, "I couldn't stand the harassment from various regulatory institutions and internet censorship that directly affected my work."
The Future of Iran's IT Industry
Experts warn that the loss of human capital in this industry will have widespread consequences due to the growing role of technology in all businesses and industries. According to entrepreneurs like Ehsan, Iranian startups have suffered the most from the current situation. Many of these businesses are forced to shut down or postpone the launch of new services or products because they cannot afford or even find the talented experts needed to help them achieve their goals. "Given that a large number of high-level IT professionals have left the country in the past two years, the demand for the remaining professionals is very high; and therefore only large companies can afford to pay a salary as high as $2,000 or even $3,000 per month, literally pushing small companies out of the market," he argued.
However, the consequences of such an exodus do not stop there. According to many experts, Iran's growing cyber vulnerabilities in different national businesses, industries and infrastructure are already costing the country both in terms of economic losses and growing insecurity. Iran has been the target of a number of cyberattacks in recent years, many of which have been blamed by authorities on the United States and Israel. Cyberattacks on Iran Railway system (July 2021), the national of the country fuel delivery system (October 2021), a number of large steel producers (June 2022), and Tehran municipal government website (June 2022) are just a few examples.
As Iran tries to assert growing control over the internet – and amid growing local discontent and stalled international negotiations over reviving the 2015 nuclear deal – many expect the leak of IT professionals in the country continues. This worsening "drought" in highly skilled human capital will only further strain an already struggling industry.
Maysam Bizaer is an analyst and commentator who primarily focuses on Iran's foreign policy, politics and economy. He is a frequent contributor to a number of international media and US-based think tanks. Follow Maysam on Twitter @m_bizar. The opinions expressed in this article are his own.
Photo by Scott Peterson/Getty Images
---
The Middle East Institute (MEI) is an independent, non-partisan, non-profit educational organization. It does not engage in advocacy and the opinions of its scholars are their own. MEI welcomes financial donations, but retains exclusive editorial control of its work and its publications reflect only the opinions of the authors. For a list of EMI donors, please click hise.