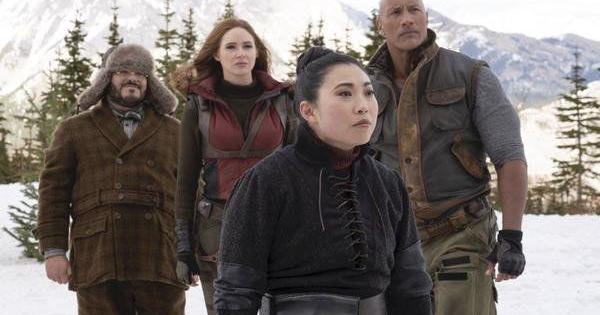 FILM REVIEW: The final episode of 'Jumanji' should be called 'game over' | Lifestyles
During the opening sequence of "Jumanji: The Next Level", the front of a character's smartphone is displayed with the date "December 13, 2019" front and center. While rare, this isn't the first time a movie has had its own release date on screen, and it likely won't be the last.
While meant to be clever and self-aware, it's just the first of many reminders to follow that we're looking at a quickly put together sequel that exists only to be a blatant cash grab.
The fourth installment in the "Jumanji" franchise, "The Next Level" will be familiar enough (if possible still unpleasant) for the people who made the latest installment ("Welcome to the Jungle") a surprise $1 billion global hit. . The filmmakers make the huge mistake of assuming first-time viewers will automatically know what's going on, including the Guns 'n' Roses song "Welcome to the Jungle" does nothing to help.
It would be nice to say that if it had been made as a standalone movie, things would have turned out better – but that's definitely not the case here. It's a bit like saying that being hit in the head with a brick three times is slightly better than being hit in the head with a brick four times.
Unlike the original 1995 episode starring Robin Williams where "Jumanji" was a board game where animals came to life, "Welcome to the Jungle" featured an antiquated video game (think "Atari") that allowed players to assume the personalities of their avatars. The four high school teenagers from "Welcome" return, now bound for college, and since they only appear for a few minutes at the beginning and end, the actors' names don't matter.
They are joined here by Eddie (Danny DeVito) and Milo (Danny Glover), former co-owners of a restaurant whose friendship fell apart when Milo decided to retire. Despite Milo's best reconciliation efforts, Eddie is still angry and determined to hold his grudge.
Because he is depressed, one of the teenagers re-enters the game and drags two of the others with him along with Eddie and Milo. Once in the game, they are channeled through avatars represented by (also returning) Dwayne Johnson, Kevin Hart, Jack Black, and Karen Gillan. The ONLY interesting wrinkle in the story is that Johnson and Hart respectfully voice Eddie and Milo.
While Johnson speaks in a passably cantankerous New York accent, the normally motor-mouthed Hart delivers his lines with slow, precise deliberation leading to one of the movie's biggest genuine laughs (out of about three).
For about half the time, Johnson and Hart audition for "Grumpy Old Men 3." But the problem is, it's only funny for about five minutes. For his part, Black channels first a black teenager, then a white teenager and falls steadily – in other words, he turns into another variant of Jack Black. The best (if that's the right word) is Gillan, a still relatively unknown actress with plenty of potential who deserves better than to be "trapped" in a franchise so unworthy of her charm and reach. Dressed as if she's auditioning for another "Tomb Raider" reboot, scantily clad Gillan has the most to do – and she puts her best foot forward.
Returning director Jake Kasden (Lawrence's son) and his co-writers Scott Rosenberg and Jeff Pinker try to distract from the inert, moribund script by including huge sets set in a rainforest, a sprawling desert, a Middle East-themed market, a maze of skywalks and finally a snowy castle that could easily serve as a "Game of Thrones" setting.
Although avatars can "die" (which they do), they also have the ability to come back to life. But even if it can only be done a limited number of times, there's no doubt that someone will run out of lives. Even the presence of a barbaric killer (Rory McCann) known as "Jurgen the Brutal" presents little palpable or eminent danger.
With all of its bells and whistles and camera assaults, the grand total of "The Next Level" is far less than the sum of its parts. We've come to expect Hollywood products released to market to lack imagination, and while "The Next Level" is far from the worst of its kind ever made, it's still a huge disappointment to almost all possible levels.
(Sony/Columbia)