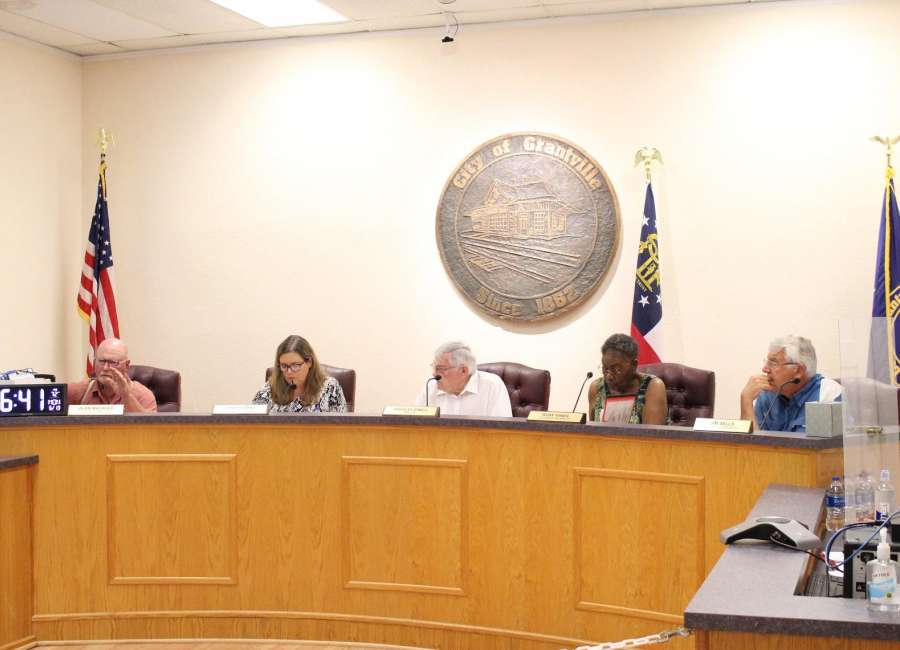 Grantville eyes sewer development with industrial developer
Jeffrey Cullen-Dean/The Newnan Times-Herald
Grantville City Council is discussing a development with Robinson Weeks to upgrade the city's sewer system to prepare for new industrial development. Left to right, Alan Wacaser, Casey Evans, Mayor Doug Jewell, Ruby Hines and Jim Sells.
Grantville could upgrade one of its pump stations to accommodate increased sewer flow from a new industrial development.
The development is a one million square foot warehouse located near Highway 29.
In March, construction on a million-square-foot warehouse on Lowry Road was halted when the city council voted not to rezone a property from residential to light industrial.
This time the property that is being considered for development is already zoned for industrial development.
The property, owned by RW Grantville II Industrial Owner LLC, will be developed by Robinson Weeks, an industrial real estate developer.
According to City Engineer Brennan Jones, the agreement with the developer will transfer sewer flow in the area from the Pine Street Basin to the Colley Street Land Basin. The flow from there would then go to the Griffin Street pumping station.
The development is expected to use 12,000 to 15,000 gallons of water per day. Jones said the piping will need to be changed, but overall it's a minor system upgrade.
"It relieves some of the flow from the Pine Street sewage treatment system, which will help this pond stay in compliance with its permit. The Pine Street pond is flowing at approximately its allowable limit, and therefore transferring a bit of that flow at this Griffin Street Pumping Station, it actually relieves some flow from that treatment system," he said.
Jones added that the sewer system would be private until it connects to the public system. The developer will coordinate construction before handing over the completed piping system to the city.
Mayor Doug Jewell said he's worried the development could use 12,000 to 15,000 gallons of water now, but will need more in the future.
Jones said the city could have some control over something like this by incorporating it and other stipulations into the development agreement with Robinson Weeks.
The board will vote on the matter at its June 20 meeting.