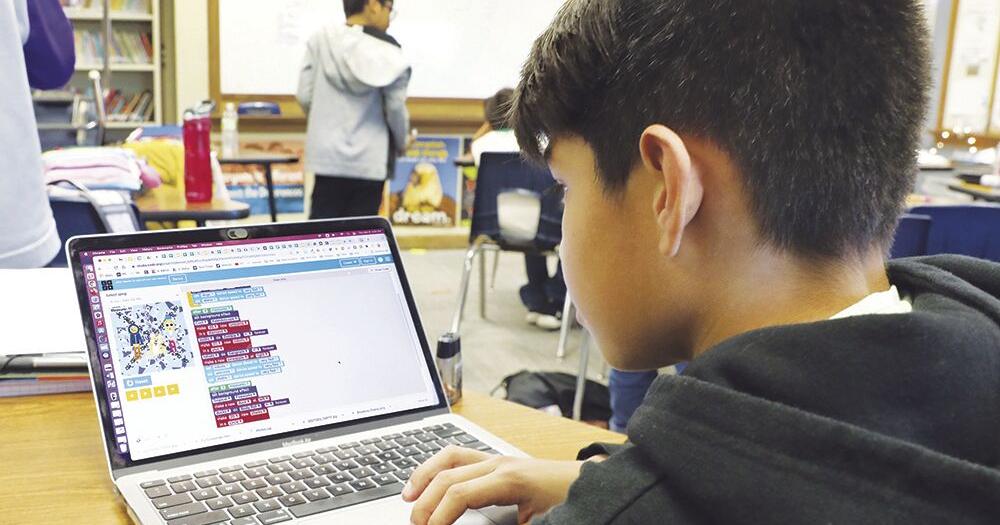 Hour of Code: TK students through fifth grade learn to code computers | News
by Dan Mundt

Students at Denison Community Schools (DCS) from Kindergarten to Grade 5 participated this week in an event called the "Hour of Code," which is an educational series designed to teach children how to code computers.
"It's set up by an online organization called Code.org"said Darin Johnson, technology integrator at Broadway Elementary and Denison Elementary.
"They promote the code to kids for at least an hour during Computer Science Week, which is this week."
In 2019, a $ 50,000 Computer Science is Elementary project grant and school district funding redeveloped the Denison Elementary Computer Lab into a STEM (science, technology, engineering, and math) classroom.
"Since we applied for this grant, we've slowly increased the amount of computing in which kids participate," Johnson said. "This year we have decided to speed things up in several ways."
The first way was to add preschoolers to the curriculum this year after adding transitional kindergarten (TK) last year.
"So now we basically have a kindergarten through fifth grade participating in this event," he said.
"The second way is that we do activities called 'unplugged activities' to reinforce the idea that IT doesn't always have to be on a device or online. Computing is more than programming and coding a computer; it is also about being critical and breaking down problems in order to find a solution.
The preschoolers did not participate in the unplugged activities, but the rest of the students did.
"Traditional knowledge up to grade two had a daily activity they could do that matched our theme for the day," Johnson said. "On day one, we focused on protecting your private information online. Be careful what you share with strangers. When you're on sites or downloading stuff, you don't want to share information that could identify you or allow people to find you.
All the unplugged activities that the students did on the first day reinforced this notion.
"Tuesday was dedicated to an event; an event is something in a computer program that when you click a button or the mouse something happens, "he said. "It's kind of a cause-and-effect relationship. All of the unplugged daily activities we did were aligned with this topic for the day.
The other unplugged topics of the week were Algorithm, Loop, and Bug / Error Day.
"We want them to have a deeper understanding of each of these concepts," Johnson said.
During the Hour of Code online games, students go to different online sites and learn to code.
"We were just doing Code.org, and then we opened a year or two ago with a selection jury; they can also choose other sites, "he said. "They received it very well. Children are like adults; if you give them a choice, rather than telling them what to do, they respond better. They can choose something more suited to their interests.
"It's very game-based," Johnson said. "To the untrained eye people would say, 'Well, these kids just play video games,' but it's a lot more than that. "
Students learn to persevere while breaking down problems, and they also learn to collaborate with the students around them.
"We've found that no matter what field you're heading into, if you can't work with people, or you can't solve complex problems, you're probably not going to be there for very long," he said. he declared.
The goal for the week is to get kids to do as much code as possible to start learning how to create their own creations.
"In tech, in general, we don't want kids to just consume something that has already been made for them," Johnson said. "We want them to realize that they have the ability to make it their own – they have the ability to program the computer however they want."
Students love Hour of Code week – and so do teachers, he said.
"In the past, maybe there were classes where, at the time of coding activities, the teacher would say, 'Get out your computers,' and the kids would just code," Johnson said. "Now we see that teachers are also getting more involved. Some teachers were a little intimidated, but I think they are more and more comfortable with it.
Schools have pushed computer science into every classroom since the Computer Science is Elementary grant was received.
"We want them to see that they can do computer programming during math and reading and science and other subjects as well," he said.
"We know that not everyone will go beyond school to become a computer programmer, even though it is a highly demanded profession. They could probably write their own post to where they want to go and work right now. "