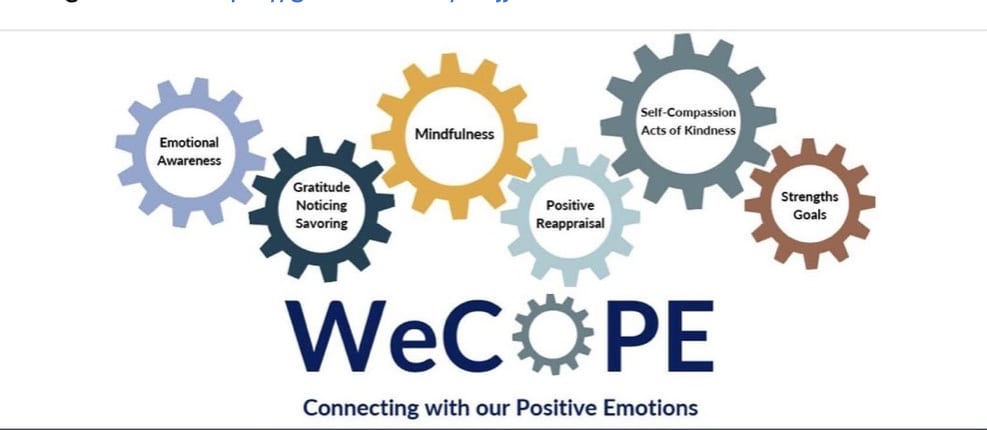 Last year was tough… The WeCOPE program will be offered virtually FREE! – Whitewater banner
[ad_1]
Editor's Note: The following information was provided by UW-Madison Extension.
WeCOPE is designed to help you discover strategies that will help you become more aware of the mind-body connection and learn skills to respond to the stress you may encounter in your daily life. You will learn several skills such as mindfulness, positive reassessment, tasting, and gratitude, among others.
WeCOPE is an evidence-based 7-session program that helps adults cope with the stresses of life. WeCOPE is based on the work of Dr Judith Moskowitz and has been shown to reduce stress and depression, increase positive affect, and improve health behaviors in randomized trials. The work of Dr Moskowitz is based on research that even in the context of life stress such as serious illness or the death of a loved one, positive emotions can occur and have unique coping correlates and adaptive consequences.
Our workshops are designed with you in mind. We offer you multiple opportunities to reflect on your life and personal circumstances and to share with other participants if you wish. You will never be asked to disclose anything that you don't want to share. We also offer you the opportunity to practice mindful breathing and meditation. We encourage you to engage where you feel comfortable. There is no mandatory role play or sharing in our workshop. We invite you to attend as you are at each session.
You can attend these FREE classes from the comfort of your home or wherever you are, as the class will be offered through Zoom, and participants will be able to connect through a computer or connect by phone. The program will take place Mondays and Thursdays from 11 am to noon from September 9 to 30, 2021. Please register on go.wisc.edu/WeCOPEkrw.
If you have any questions, please contact:
Walworth County – Amanda Kostman – amanda.kostman@wisc.edu
The University of Wisconsin-Madison Extension Division provides affirmative action and equal opportunity in education, programming and employment to all qualified individuals, regardless of race, color, gender, creed, disability, religion, national origin, ancestry, age, sexual orientation, pregnancy, marital or parental, criminal record of arrest or conviction or veteran status. For additional contact information for your local extension office, go to http://counties.extension.wisc.edu.
[ad_2]