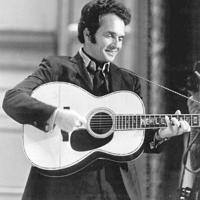 RAMBLIN' ROUND: Country money in Haggard in McAlester | Columns
I had been impressed watching the first four episodes of "Country Music – A Ken Burns Film" by how many of the country music greats featured on the PBS documentary series performed at McAlester.
During those early episodes, I spotted at least eight amazing country music artists who had performed at McAlester. I thought maybe I missed a few – but I knew more would come in the final four episodes.
With the already acclaimed documentary series wrapping up on PBS last Wednesday, I counted 16 other artists featured in the film who brought their music to McAlester, bringing the total to 24 – and that's not counting the bands!
Here's something about other artists who had prominent roles in Ken Burns' "Country Music" who played McAlester:
• Johnny Cash – I couldn't find any records (or memories of long-time residents) of Johnny Cash performing a public concert in McAlester – but he did perform one of his famous prison concerts at the State Penitentiary in 'Oklahoma on August 19, 1974.
Money played for male and female prisoners (at that time women were housed in a separate facility on OSP grounds). Cash performed on an outdoor stage set up near a section of the bleachers inside the prison rodeo arena. A film clip of the performance shows him singing "Sunday Morning Coming Down".
Cash's life and music are recurring themes in Ken Burns' "Country Music" – the documentary ending in 1996 – the year Cash passed away.
• Willie Nelson — Willie performed in McAlester during the city's 1999 centennial celebration on an outdoor stage at the Southeast Expo Center, in a concert presented by the McAlester News-Capital. He was joined on stage by his crack band, and for a few songs, by another virtuoso musician.
• John McEuen — The famed banjoist and fiddler of the Nitty Gritty Dirt Band, of "Mr. Bojangles fame, was in McAlester when Willie was playing in town, to perform at the local venue, The Ice House . Temporarily separated from the Nitty Gritty Dirt Band, McEuen performed as a solo artist at the benefit concert he performed for the family of local Oklahoma Highway Patrol soldier Rocky Eales. McEuen also went to the Expo Center to see Willie, who welcomed him on stage to play the banjo and sing a few songs.
• The Nitty Gritty Dirt Band — Chris Clark, then owner of The Ice House, also brought the Nitty Gritty Dirt Band to McAlester, minus McEuen. The Carter family song "Will the Circle Be Unbroken" is another recurring theme on the 16+ hour documentary series, and the Nitty Gritty Dirt Band's 1972 triple album, also titled "Will the Circle Be Unbroken" is rightly so – celebrated by Ken Burns. The groundbreaking album paired the band's younger members with country music pioneers, such as Maybelle Carter, Earl Scruggs, Merle Travis, Doc Watson and Jimmy Martin.
• Merle Haggard — The Ice House sold out the night Clark brought legendary entertainer Merle Haggard to McAlester, the night before Haggard performed at the Houston Astrodome! Known then, and now, as "The Ordinary Man's Poet" and rightly considered one of the greatest singers and songwriters of all time, Haggard is featured prominently in Ken's "Country Music." Burns. Before her parents moved to California, they had lived on the McAlester Freeway in Checotah.
• Leon Russell — The famous rock musician from Tulsa also loved country music, once recording an entire album of country music standards titled "Hank Wilson's Back Vol. 1," followed by two more volumes of country and bluegrass songs. He also came to McAlester to perform at The Ice House and is shown in Ken Burns' "Country Music" – of course – "Will the Circle Be Unbroken".
• Asleep at the Wheel — The lead singer and guitarist of The Wheel, Ray Benson, appears several times in the documentary series, usually when the subjects are Bob Wills, Willie or Austin. Asleep at the Wheel is another famous musical act to perform at The Ice House.
• Charlie Pride – He gets a significant amount of airtime in the Ken Burns documentary. An email correspondent told me he once saw Pride perform at the prison rodeo, probably in the early 1970s, where he dedicated an inmate song to the warden, with the opening lines of " Please release me, let me go."
• Ray Price – Also known as the Cherokee Cowboy, Price performed an outdoor concert in McAlester at an outdoor rally for District 7 State Senator Gene Stipe.
• Charlie Daniels — Like Willie, the Charlie Daniels Band performed at the Southeast Expo Center during McAlester's centennial celebration year, brought to town by Jack Inman and Walmart.
• Randy Travis — Former District 17 State Representative Mike Mass told me he once took a trip to Nashville, where he was impressed by a then little-known singer. Mass decided he'd like to bring her to McAlester and the deal was done. In the meantime, Travis' career hit the stratosphere, but he honored the deal by coming to McAlester for an outdoor concert.
• Tammy Wynette — Came to McAlester for a three-day country music festival at the Pittsburg County Fairgrounds. Wynette and her then-husband and duet partner George Jones are featured in the main "Country Music" segments.
• Conway Twitty — Conway has played McAlester several times, including an appearance at the same three-day festival as Wynette.
• Mac Wiseman — Like Bill Monroe, Mac Wiseman performed for several consecutive years at the Sanders Family Bluegrass Festival west of McAlester. He appeared several times in Ken Burns' "Country Music", talking about bluegrass music and artists.
• Vince Gill — Interviewed for several segments and also featured as an artist on the "Country Music" series, Gill came to McAlester to perform at Cowboy's as his career took off.
• Reba McEntire — Born in McAlester, Reba is featured in a major segment of Ken Burns' "Country Music" with a shoutout at Kiowa Public Schools, where she sang as a member of the school's country music band. Along with Vince Gill, Randy Travis and others, Reba is credited with helping bring country music back to its roots.
For those who may have missed the PBS series, skipped a few episodes, or just would like to rewatch it, all eight episodes were still streaming for free on Friday at www.pbs.org/kenburns/country-music/.
The final episode is titled "Don't Get Above Your Raisin'" – which is not only a great title, but also simple advice.
Contact James Beaty at jbeaty@mcalesternews.com.